MacBook Pro 17" MA897X/A adapter
Compatible Laptop Ac Adapter for apple MacBook Pro 17" MA897X/A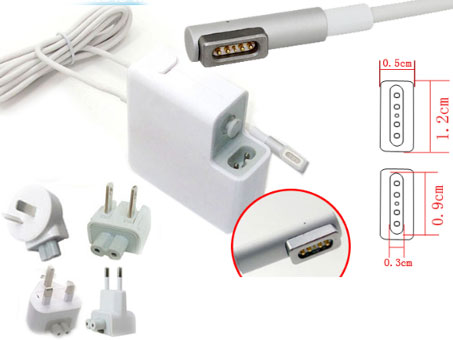 Click to enlarge
Find other parts of your apple MacBook Pro 17" MA897X/A
Code:12023BL
Weight: 450g
Special price:

$

44.74

AUD

Brand new product with 1 year warranty!
Note:
Input Voltage: AC, 100-240V,50-60HZ
Output Voltage: DC, 18.5V, 4.6A
Power:85W
Tip Connector Size: 5 Pin Magsafe 1st Generation
PowerCord:US, UK, AU, EU etc. according to your country
This item is not compatible with neither the New Super Slim MacBook Pro with retina display nor Macbook Air 2012 with Magsafe 2nd generation connector.

This MacBook Pro 17" MA897X/A adapter replaces:
APPLE

MC556Z/A,
MC556X/A,
MC556TA/A,
MC556LL/A,
MC556J/A,
MC556B/A,
MA938LL/A,
A1343,
A1290,
A1222,
A1172,
This MacBook Pro 17" MA897X/A adapter is compatible with the following models:
APPLE

MacBook Pro 17" Series,
MacBook Pro 17" Precision Aluminum Unibody,
MacBook Pro 17" MC226ZP/A,
MacBook Pro 17" MC226TA/A,
MacBook Pro 17" MC226LL/A,
MacBook Pro 17" MC226J/A,
MacBook Pro 17" MC226CH/A,
MacBook Pro 17" MC226*/A,
MacBook Pro 17" MC024ZP/A,
MacBook Pro 17" MC024X/A,
MacBook Pro 17" MC024TA/A,
MacBook Pro 17" MC024LL/A,
MacBook Pro 17" MC024J/A,
MacBook Pro 17" MC024CH/A,
MacBook Pro 17" MC024*/A,
MacBook Pro 17" MB166X/A,
MacBook Pro 17" MB166LL/A,
MacBook Pro 17" MB166J/A,
MacBook Pro 17" MB166B/A,
MacBook Pro 17" MB166*/A,
MacBook Pro 17" MA897X/A,
MacBook Pro 17" MA897LL/A,
MacBook Pro 17" MA897J/A,
MacBook Pro 17" MA897*/A,
MacBook Pro 17" MA611X/A,
MacBook Pro 17" MA611LL/A,
MacBook Pro 17" MA611KH/A,
MacBook Pro 17" MA611J/A,
MacBook Pro 17" MA611CH/A,
MacBook Pro 17" MA611B/A,
MacBook Pro 17" MA611*D/A,
MacBook Pro 17" MA611*/A,
MacBook Pro 17" MA611,
MacBook Pro 17" MA092X/A,
MacBook Pro 17" MA092TA/A,
MacBook Pro 17" MA092LL/A,
MacBook Pro 17" MA092KH/A,
MacBook Pro 17" MA092J/A,
MacBook Pro 17" MA092CH/A,
MacBook Pro 17" MA092,
MacBook Pro 17" A1297,
MacBook Pro 17" A1151,
MacBook Pro 15.4" Series,
MacBook Pro 15.4" MA896LL/A,
MacBook Pro 15.4" MA895LL/A,
MacBook Pro 15" Series,
MacBook Pro 15" Precision Aluminum Unibody,
MacBook Pro 15" MC373ZP/A,
MacBook Pro 15" MC373X/A,
MacBook Pro 15" MC373TA/A,
MacBook Pro 15" MC373LL/A,
MacBook Pro 15" MC373J/A,
MacBook Pro 15" MC373*/A,
MacBook Pro 15" MC372ZP/A,
MacBook Pro 15" MC372X/A,
MacBook Pro 15" MC372TA/A,
MacBook Pro 15" MC372LL/A,
MacBook Pro 15" MC372J/A,
MacBook Pro 15" MC372CH/A,
MacBook Pro 15" MC372*/A,
MacBook Pro 15" MC371ZP/A,
MacBook Pro 15" MC371X/A,
MacBook Pro 15" MC371TA/A,
MacBook Pro 15" MC371LL/A,
MacBook Pro 15" MC371J/A,
MacBook Pro 15" MC371CH/A,
MacBook Pro 15" MC371*/A,
MacBook Pro 15" MC118ZP/A,
MacBook Pro 15" MC118X/A,
MacBook Pro 15" MC118TA/A,
MacBook Pro 15" MC118LL/A,
MacBook Pro 15" MC118J/A,
MacBook Pro 15" MC118CH/A,
MacBook Pro 15" MC118*/A,
MacBook Pro 15" MC118,
MacBook Pro 15" MB986ZP/A,
MacBook Pro 15" MB986X/A,
MacBook Pro 15" MB986TA/A,
MacBook Pro 15" MB986LL/A,
MacBook Pro 15" MB986J/A,
MacBook Pro 15" MB986CH/A,
MacBook Pro 15" MB986*/A,
MacBook Pro 15" MB985ZP/A,
MacBook Pro 15" MB985X/A,
MacBook Pro 15" MB985TA/A,
MacBook Pro 15" MB985LL/A,
MacBook Pro 15" MB985J/A,
MacBook Pro 15" MB985CH/A,
MacBook Pro 15" MB985*/A,
MacBook Pro 15" MB471X/A,
MacBook Pro 15" MB471LL/A,
MacBook Pro 15" MB471J/A,
MacBook Pro 15" MB471CH/A,
MacBook Pro 15" MB471*/A,
MacBook Pro 15" MB470X/A,
MacBook Pro 15" MB470LL/A,
MacBook Pro 15" MB470J/A,
MacBook Pro 15" MB470CH/A,
MacBook Pro 15" MB470*/A,
MacBook Pro 15" MB134X/A,
MacBook Pro 15" MB134LL/A,
MacBook Pro 15" MB134J/A,
MacBook Pro 15" MB134B/A,
MacBook Pro 15" MB134*/A,
MacBook Pro 15" MB133X/A,
MacBook Pro 15" MB133LL/A,
MacBook Pro 15" MB133J/A,
MacBook Pro 15" MB133B/A,
MacBook Pro 15" MB133*/A,
MacBook Pro 15" MA896X/A,
MacBook Pro 15" MA896RS/A,
MacBook Pro 15" MA896LL,
MacBook Pro 15" MA896KH/A,
MacBook Pro 15" MA896J/A,
MacBook Pro 15" MA896CH/A,
MacBook Pro 15" MA896*/A,
MacBook Pro 15" MA895X/A,
MacBook Pro 15" MA895RS/A,
MacBook Pro 15" MA895LL,
MacBook Pro 15" MA895KH/A,
MacBook Pro 15" MA895J/A,
MacBook Pro 15" MA895CH/A,
MacBook Pro 15" MA895*/A,
MacBook Pro 15" MA610X/A,
MacBook Pro 15" MA610LL,
MacBook Pro 15" MA610KH/A,
MacBook Pro 15" MA610J/A,
MacBook Pro 15" MA610CH/A,
MacBook Pro 15" MA610B/A,
MacBook Pro 15" MA610*D/A,
MacBook Pro 15" MA610*/A,
MacBook Pro 15" MA610,
MacBook Pro 15" MA609X/A,
MacBook Pro 15" MA609LL,
MacBook Pro 15" MA609KH/A,
MacBook Pro 15" MA609J/A,
MacBook Pro 15" MA609CH/A,
MacBook Pro 15" MA609B/A,
MacBook Pro 15" MA609*D/A,
MacBook Pro 15" MA609*/A,
MacBook Pro 15" MA609,
MacBook Pro 15" MA601X/A,
MacBook Pro 15" MA601TA/A,
MacBook Pro 15" MA601LL/A,
MacBook Pro 15" MA601LL,
MacBook Pro 15" MA601KH/A,
MacBook Pro 15" MA601J/A,
MacBook Pro 15" MA601,
MacBook Pro 15" MA600X/A,
MacBook Pro 15" MA600TA/A,
MacBook Pro 15" MA600LL/A,
MacBook Pro 15" MA600LL,
MacBook Pro 15" MA600KH/A,
MacBook Pro 15" MA600J/A,
MacBook Pro 15" MA600,
MacBook Pro 15" MA464ZH/CTO,
MacBook Pro 15" MA464ZH/A,
MacBook Pro 15" MA464LL/A,
MacBook Pro 15" MA464LL,
MacBook Pro 15" MA464KH/A,
MacBook Pro 15" MA464J/A,
MacBook Pro 15" MA464CH/A,
MacBook Pro 15" MA464,
MacBook Pro 15" MA463ZH/HD100,
MacBook Pro 15" MA463ZH/A,
MacBook Pro 15" MA463LL/A,
MacBook Pro 15" MA463LL,
MacBook Pro 15" MA463KH/A,
MacBook Pro 15" MA463J/A,
MacBook Pro 15" MA463CH/A,
MacBook Pro 15" MA463,
MacBook Pro 15" Aluminum Unibody,
MacBook Pro 15" Aluminum,
MacBook Pro 15" A1286,
MacBook Pro 15" A1260,
MacBook Pro 15" A1150,